An Example of a Male Line Descent Tree from the MRCA in a Surname Project.


How to Diagrammatically Show Descendants' Relationships
and how to Count Unique Transmission

Events(

UTEs

)
from the Surname Project's Most Recent Common Ancestor, the(MRCA).
This Example is from the Kerchner Surname Project.
---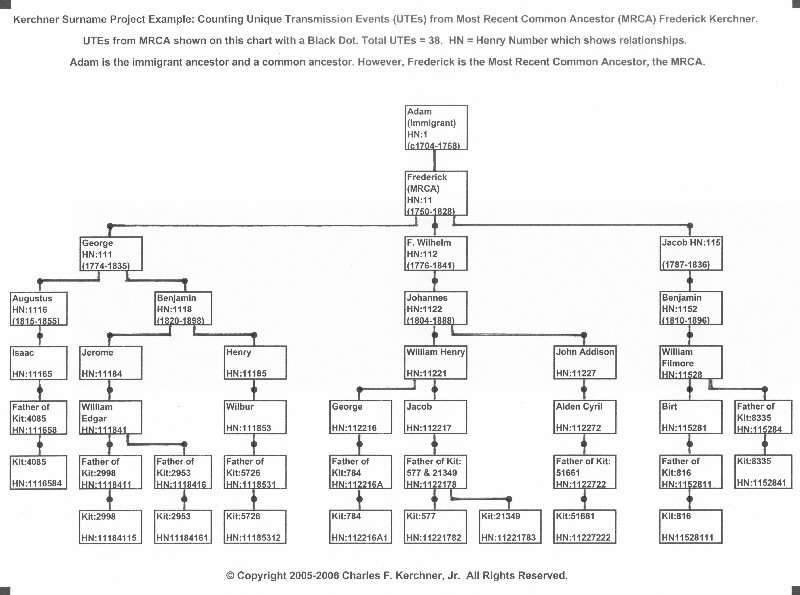 UTEs from MRCA in above chart marked with a black dot. Total UTEs = 38. HN=Henry Number which shows relationships.
Explanation of Henry Numbers
Explanation of MRCA, i.e., the Most Recent Common Ancestor

Text Outline Version of this Descent Tree Chart
---

Link to Kerchner Surname Project Test Results Data Table
showing allele value Mutations in above lines with haplotypes in that data table sorted by Henry Number to aid analysis
and to aide the determination of and the counting of Unique Mutation Events (UMEs).
---

Back to Y-STR Mutation Log Add Entry Page
Back to Y-STR Mutation Log Home Page
---
Copyright ©2005-2020
Charles F. Kerchner, Jr., P.E. Retired
Genetic Genealogy Pioneer
All Rights Reserved
Created - 19 Jan 2005
Updated - 31 Dec 2019